Using traditional Tlingit weaving techniques, Teri Rofkar wove modern composite materials into robes, drawing upon the tradition of robe-making for ceremonial use in Native American culture. Rofkar began fabrication on two robes: one bulletproof, woven from Kevlar; the second nano technology and changes color as it responds to movement. The bulletproof robe was intended to address issues such as homeland security and the loss of land by the Tribes across America. The second robe, programmable using nano technology, was planned to be activated by sound or movement and used in choreographed dances rooted in, but new to, Native American ceremonial dancing. Rofkar died in 2016 before completing the project.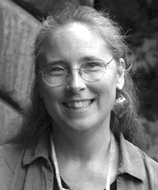 Teri Rofkar
Sitka, AK
Teri Rofkar was a weaver of basketry and textiles who used the technique of twining to create watertight baskets from spruce tree roots and dancing robes from the wool of mountain goats. Rofkar lived in Sitka, AK, and was an active member of the Tlingit tribe. The methods of preparing and weaving practiced by the artist are more than 6,000 years old. As the weaving is done freehand without the use of a loom, a ceremonial robe can take over 2,000 hours to create. Throughout her life, Rofkar continued research and broadened awareness about traditional Native American crafts by expanding the discourse to include new stories. By combining innovative materials and themes with traditional techniques, Rofkar reflected the expanded relationship of native people to a more global community. Rofkar's work is in the collection of the National Museum of the American Indian in Washington, DC, and the Museum of the North in Fairbanks, AK. Rofkar's woven arts have sold in galleries since 1989.
Teri Rofkar passed away in 2016.