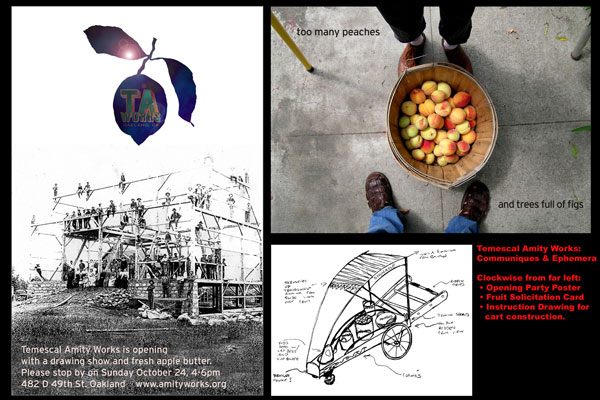 Temescal Amity Works is a social sculpture project. Sited in the Temescal neighborhood of Oakland, CA, the project facilitates and documents the exchange of backyard produce, conversation, and collective biography. Ted Purves and Susanne Cockrell built a pushcart on which they collected and sold fruit from the citrus trees in community back yards. The cart also served as a vehicle for the artists and neighborhood residents to gather stories, history, and other information about itself, which were published and circulated as a series of free postcards. The artists focused on the Temescal neighborhood because it was originally an "orchard suburb" in the 1920's.
Susanne Cockrell
Oakland, CA
Susanne Cockrell's work in performance, film, installation, and concept driven public projects, seeks to create experiences that elevate the everyday into something more wonderful, mysterious, and full of possibility. In addition to working on Temescal Amity Works, her project Knithoughts (an ongoing, interactive work wherein she circulates cards at exhibitions and in daily encounters) has been exhibited at Southern Exposure Gallery and at the Kellogg Art Museum. Cockrell is an Associate Professor of Fine Art at California College of the Arts. Her work has been exhibited at the Headlands Center for the Arts, the Hirschorn Museum, the Ann Arbor Film Festival, the Semena De Cine Experimental Madrid, The Berkeley Art Museum, and Capp Street Project. She is the recipient of a Creative Work Fund Grant from the Elise and Walter Haas Foundation.
Ted Purves
Berkeley, CA
Ted Purves is an independent artist, editor, and curator. His work has been exhibited and published in many venues and journals throughout California, as well as in New York, Boston, Albany and several cities in Germany. Purves has won funding from the Creative Work Fund in San Francisco and the Headlands Center for the Arts and been an artist-in-residence at The Djerassi Colony and the Drawing Residency Program. He teaches at the California College of The Arts in Oakland and Master of Arts and Consciousness Program in Berkeley. He received his MFA in Photography from Ohio University in 1989.