Sleeping Beauty: She Woke (Panto Project)
---
ONEOFUS is Julie Atlas Muz and Mat Fraser whose work highlights, questions and pokes fun at the absurdity of normality using a loving cup of artistic agitation. We accept you, one of us.
More
Julie Atlas Muz has been around the block more than once. An innovative performer, artist and producer, Muz specializes in funny, feminist, and outrageously loving shows.
Artist Bio
Mat Fraser: disabled actor, writer, and musician. Fraser's writing has been recognized and awarded, and his 2021 series for the BBC, CripTales, won a Prix Italia as well as NAACP Image Awards and BAFTA nominations.
Artist Bio
---
Sleeping Beauty: She Woke is the third installment of the Panto Project in collaboration with the Abrons Arts Center, New York. Through a large-scale, intergenerational, comedic holiday show for the whole family, The Panto Project led by Julie Atlas Muz and Mat Fraser unites community, fosters the love of theater in young people, and spreads good cheer with low brow high quality theater. With a superb cast of 20 people whose ages range between seven and 70 years, and over a run of four weeks in a 300-seat theater, Muz and Fraser celebrate their neighborhood by reflecting it onstage in a two-hour holiday spectacular. The diversity of the cast is reflected in the audience, which the artists cultivate carefully. They paper their preview and first-week houses with families from the local shelters who are affiliated with Abrons Arts Center, as well as tap into local New York City Housing Authority communities. The show itself? Well, it's a reinvention of the traditional British pantomime, which was in much need of a critical overhaul. Writer Mat Fraser is a well-known disabled artist and activist, and director Julie Atlas Muz has a unique feminist glamor that is legendary.
---
Creative Capital Carnival 2023
ONEOFUS
We are outsiders, with inclusivity at the heart of what we do. Traversing the world as radical artists looking for alternative ways to be inside, the main thrust of our work is to highlight, question and poke fun at the absurdity of normality, using a loving cup of artistic agitation. We accept you, one of us.
ONEOFUS is Julie Atlas Muz and Mat Fraser. Past work include, The Freak & The Showgirl (Adelaide, Perth, Berlin & more), Beauty & the Beast (London, New York City, Adelaide, Chicago), CripFest Disability Arts Festival celebrating the 25th Anniversary of the ADA, BAM Fischer 2015, Jack & the Beanstalk (New York City) and Dick Rivington & the Cat (New York City 2021/22).
---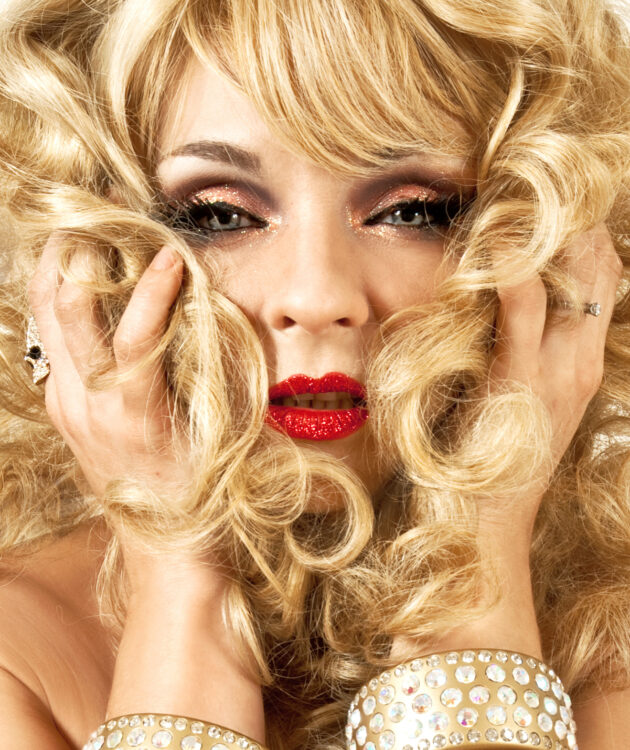 Julie Atlas Muz
New York, NY
Julie Atlas Muz (producer, director) hails from Detroit and is a consistent innovator in the New York theater scene. A Whitney Biennial artist, a Valencia Biennial Artist, an Ethyl Eichelberger Award recipient, a Lambent Fellow, and a Franklin Furnace artist, Muz has won the following titles: Miss Exotic World, Miss Coney Island, and Queen of the Mermaid Parade. In a first for contemporary burlesque artists, Muz has an ongoing franchise of her award-winning acts in Las Vegas, Dubai, France, Japan, the United Kingdom, and Australia. A founding member of chashama, Muz worked for eight years (1997–2004) to help make a space for artists to create in unused real estate and is the apprentice of MacArthur-award-winning puppeteer Basil Twist, most recently assisting on My Neighbor Totoro. In 2018, Muz was hailed with her husband Mat Fraser as The New York Times' New Yorkers of the Year for the pantomime Jack and the Beanstalk at the Abrons Arts Center. Under the auspices ONEOFUS, they have created the Panto Project with the eye to import this much-needed, fun-loving form of theater to the US. To support her experimental-theater practice, Muz performs constantly in New York and London in the nightlife circuit at any number of underground antiestablishments. 
---
Mat Fraser
New York, NY
Mat Fraser is an award-winning and nominated, internationally known disabled actor, writer, and musician. All of his written work deals with the social construct of disability, in various ways, from it being central to a narrative, having a/disabled character/s, to casting a/disabled actor/s. Mat has constantly written throughout his adult life, and now, his voice is truly unique, experienced, and insightful. British-born and raised, he's witnessed the entire disability rights movement's fortunes, passing through six governments and 30 years. Brought up in a queer environment, the son of two actors, he's only ever been a drummer, musician, actor, and writer. Living in both London, since 1983, and New York, from 2009 on, all of his written work deals with disability in some way or another, often passing through other cultural environments that can make for a lot of intersectionality, which he welcomes! His passion is equality for all people, without othering anyone else.
---