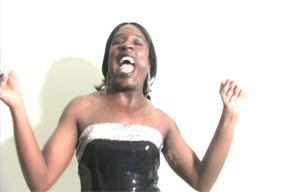 Keys To Our Heart / Romantic Loner
---
Simultaneously capturing and lampooning the glamour of old Hollywood black and white films, Keys To Our Heart is a satirical gallery and museum video project. Composed of three vignettes, the film's three characters—two females and one male—are portrayed by two cross-dressing men, with all the voices performed by Linzy. Through its use of voice-over, humor and lavish costuming, Keys To Our Heart reveals the relationship between Hollywood glamour and drag performance in a narrative film.
A second film project, Romantic Loner, is a feature that tells the story of an artist soul-searching at an art residency. The majority of the film was shot at Headlands Center for the Arts in Sausalito, CA, for a Alumni Awards Residency. The project, which introducing Linzy's new character, Kaye, also includes an original musical score and soundtrack.
Kalup Linzy
Brooklyn, NY
Kalup Linzy's solo exhibitions include Revelation 23:7 His Rod Got Gold In It, at Taxter & Spengemann gallery in New York and at LAXART in Los Angeles, and Shades of Black and White, International & National Projects at P.S.1 in Queens. He has exhibited widely in group shows in New York and Los Angeles and internationally in Warsaw, Sydney and Cologne. He is a recipient of a Louis Comfort Tiffany Foundation Grant and was an artist-in-residence at the Marie Walsh Sharpe Art Foundation studios. He received his MFA from the University of South Florida and also attended the Skowhegan School of Painting and Sculpture.