Jomama Jones is an evening-length performance event—part concert, revival and theatre piece. It centers upon a mythical music diva who fell into obscurity after a run of hits in the 1980s. This evening, Jomama Jones stages her triumphant return—to music, to the stage and to her own glimmering mission of bringing people out of self-imposed isolation and into a sense of courageous openness. Jomama Jones is a seven-foot tall, radiant soul superhero, whose expansive persona refuses limitation and encourages transformation. When Jones performed Jomama as a character in one of his early performance pieces in the mid-1990s, she was then a somewhat haughty and mean figure who focused on herself, not so much on the welfare of others. Apparently, her "expatriated" years served to crack open her heart and help her now represent the antithesis of bitterness. She returns from darkness as a lone star with singular purpose—spreading love to the people through her music and her live performance.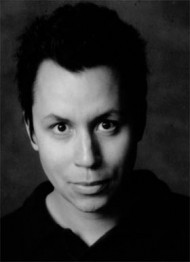 Daniel Alexander Jones
Bronx, NY
Daniel Alexander Jones makes theatre, music, and live performance. His wildflower body of work continues to grow in dialogue with a wide range of collaborators and audiences. Black Light, a commission of Joe's Pub's New York Voices initiative, premiered at The Public Theater in 2018 for a six-week run in the 50th Anniversary Astor Place Season. Duat premiered at Soho Rep in 2016 to critical acclaim (including a five-star review from Time Out). His other performance pieces and plays include Phantasmatron, Phoenix Fabrik, Blood:Shock:Boogie, and Bel Canto. He adapted the second of L. Frank Baum's Oz books into a musical, Bright Now Beyond, with composer Bobby Halvorson and director Will Davis. Daniel's multi-chapter series of solo autobiographical performances, The Book of Daniel, included collaborations with MacArthur Fellow Walter Kitundu, and celebrated director Tea Alagic. Daniel first appeared as his performance alter-ego, Jomama Jones in 1995; since her "comeback" in 2010, Jomama has released four albums, Lone Star, Radiate, Six Ways Home, and, in 2017, the double-album, Flowering. Jomama premiered Radiate to rave reviews and sold-out houses at Soho Rep in 2010 and the piece subsequently toured to cities including Los Angeles, Austin, Minneapolis and Boston. Daniel received a 2015 Doris Duke Artist Award, among the most prestigious awards in the arts, in recognition of his risk-taking practice, and a 2016 USA Artist Fellow; he was also named an inaugural Mellon Foundation Creative Research Fellow at the University of Washington in Seattle for 2017-2019. Daniel was an inaugural awardee of Creative Capital. He is an Associate Professor of Theatre at Fordham University in NYC, where he resides.