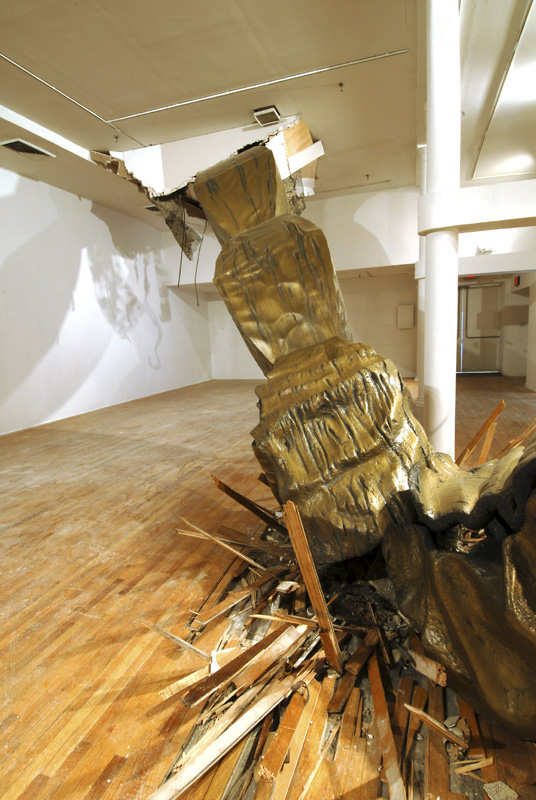 A Philosophy of Time Travel
---
---
A Philosophy of Time Travel is a collaborative sculptural installation designed for the Studio Museum of Harlem. Edgar Arceneaux, Vincent Johnson, Olga Koumoundouros, Matthew Sloly and Rodney McMillian created a site that convincingly simulated the consequences of what would happen if Constantin Brancusi's sculpture Endless Column were to suddenly and inexplicably come crashing through the museum's roof. Poetic, humorous, and ambitious, the project references such diverse sources as the music of the composer and pop artist, Sun Ra, and the architecture of Egyptian pyramids.
Edgar Arceneaux
Pasadena, CA
Born in 1972, Los Angeles-based artist Edgar Arceneaux received a BFA from the Art Center College of Design and a MFA from the CalArts. Arceneaux constructs drawings, installations, video and film works as complex arrangements of association that examine points of contact between implausible relations. Arceneaux's numerous film and video works are screened and exhibited internationally. Constantly working in new modes, Arceneaux directed his first play at the Performa Biannual in NYC in November 2015, for his new play Until, Until, Until… and was awarded the Malcolm McClaren, Best of Show Award.
He has participated in the Rauschenberg Residency in Captiva Island, Florida, Art Pace in San Antonio; Skowhegan: Banff Center in Canada and at the Fachhochschule Aachen, in Germany. Solo exhibitions have been presented at the Hammer Museum, Los Angeles; The Studio Museum in Harlem and Museum für Gegenwartskunst in Basel, Switzerland and a collaborative drawing show with Wangechi Mutu at Site Santa Fe, New Mexico.
Upcoming solo shows are the Liste Museum at MIT in Cambridge, Mass and Susanne Vielmetter Los Angeles Projects. He is represented by Susanne Vielmetter in Los Angeles and Nathalie Obedia Gallery in Paris.
Vincent Johnson
Lake Balboa, CA
Vincent Johnson is an artist and writer based in Los Angeles. His photographic works and paintings engage both significant and neglected historical subjects and are based on intensive research. He received his MFA from Art Center College of Design in 1997. He has exhibited widely, including P.S.1. Museum, the SK Stiftung in Cologne, Santa Monica Museum of Art, the Studio Museum in Harlem and LAXART. Johnson has developed important thematic analyses both through writing and photography of North American cities. His in-depth study of urban transformation and erasure has expanded into other areas of his creative practice, whether it is research, cultural review or documentation of media and its relationship to history and culture. He is currently photographing domestic architecture exteriors at night in the San Fernando Valley section of Los Angeles and exploring the history of painting techniques in his recent gray scale oil paintings. In 2011 he was named a member of the Advisory Board of The Winter Office, Copenhagen.
Olga Koumoundouros
Los Angeles, CA
Olga Koumoundouros has had extensive exhibitions of her multimedia art works and installations at numerous museums and galleries in the United States and in Germany. Koumoundouros has been awarded residencies at the California State University at Long Beach, the Atlantic Center for the Arts, and through Frogman's Press in South Dakota. She received her MFA at CalArts and also studied at California State University Long Beach, the Boston Museum School, and the University of Vermont.
Rodney McMillian
Los Angeles, CA
Rodney McMillian is a Los Angeles-based artist who works with sculpture, installation, painting, video, and performance. has had solo exhibitions at numerous museums and galleries in both the United States and in Europe. His works are in the permanent collections of The UCLA Hammer Museum, Los Angeles; The Museum of Contemporary Art; The Orange County Museum of Art, Newport Beach; Städtisches Museum Abteiberg, Mönchengladbach, Germany; and The Studio Museum, New York. A native of Columbia, SC, McMillan studied at the Skowhegan School and the School of the Art Institute of Chicago before earning his MFA at CalArts in 2002. He is represented by Susanne Vielmetter in Los Angeles.
Matthew Sloly
Toronto, Ontario
Matthew Sloly is based in Los Angeles, and has an extensive background in digital technologies. He has received funding and support from the Beall Center For Art and Technology, University Of California, Irvine, CA, and the Canada Council for the Arts. Sloly received his MFA from Art Center College of Design (Los Angeles, CA) and also studied at The Ontario College of Art and Design.