Tia Lessin
Brooklyn, NY
Tia Lessin is producer and director of the Academy Award-nominated film, Trouble the Water, winner of the Gotham Independent Film Award and the Sundance Film Festival's Grand Jury Prize. Lessin was a producer of Michael Moore's Fahrenheit 9/11, winner of the Palme d'Or, and of Academy Award-winning Bowling for Columbine. In television, her work as producer of the series, The Awful Truth, earned her two Emmy nominations and one arrest. Lessin received the Sidney Hillman Prize for Broadcast Journalism for her documentary short, Behind the Labels. She line-produced Martin Scorsese's No Direction Home: Bob Dylan and was Associate Producer of Charles Guggenheim's Oscar-nominated film, Shadows of Hate. In 2006, Lessin received a Katrina Media Fellowship from George Soros's Open Society Institute to promote a national conversation on racism and inequality in America with Trouble the Water, and in 2007, she was a Sundance Institute Fellow. Lessin is a graduate of Cornell University and she lives in Brooklyn, NY, with her filmmaking partner Carl Deal.
Academy Award nominated Trouble the Water is at once horrifying and exhilarating. Directed and produced by Tia Lessin and Carl Deal, the film takes you inside Hurricane Katrina in a way never before seen on screen. With no means to leave the city and equipped with just a few supplies and her Hi8 camera, Kimberly Rivers Roberts and her husband Scott tape their harrowing ordeal as the storm rages, the nearby levee breaches, and floodwaters fill their home and their community in the 9th Ward. Seamlessly weaving this home movie footage with their own production footage and archival news segments, Lessin and Deal go on to document the couple's two year journey in the aftermath of Katrina and the appalling repeated failures of government, telling a redemptive tale of self-described street hustlers who become heroes—two unforgettable people who survive the storm and then seize a chance for a new beginning.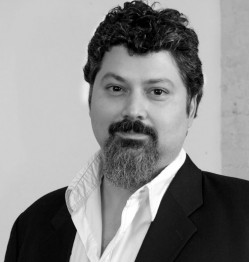 Carl Deal
Brooklyn, NY
Carl Deal directed and produced the Academy Award-nominated Trouble the Water with collaborator Tia Lessin. He co-produced Capitalism: A Love Story in 2009, was a producer of Michael Moore's Fahrenheit 9/11, and has contributed to many other documentary films. Previously, he worked as a freelance journalist and news producer for Worldwide Television News and the European Broadcasting Union and has reported from disasters and conflict zones throughout North America, Latin America and Iraq. Deal has also documented civil and human rights abuses for several NGOs, among them Amnesty International, Greenpeace and Public Citizen. He holds an MS in journalism from Columbia University, which awarded him the Sander Social Justice Award.