Tia Lessin
Brooklyn, NY
Tia Lessin was nominated for an Academy Award for her work as a director and producer of the Hurricane Katrina survival story Trouble the Water, winner of the 2008 Sundance Grand Jury Prize and the Gotham Independent Film Award. She directed and produced Citizen Koch, about rise of the Tea Party in the Midwest, which also premiered at Sundance and was shortlisted for an Oscar in 2014. Lessin directed The Janes, about an underground abortion service, which will premiere at the 2022 Sundance Film Festival. In 2001, Tia received the Sidney Hillman Award for Broadcast Journalism for directing the documentary short Behind the Labels about the labor trafficking of garment workers on U.S. Saipan.
Lessin was a producer of Palme D'Or winning Fahrenheit 9/11, Academy Award-winning Bowling for Columbine, and the Grammy-winning No Direction Home: Bob Dylan. She produced the film Where to Invade Next and executive produced Fahrenheit 11/9. Her work on the 1998/99 television series The Awful Truth earned her two Emmy nominations, one arrest, and a lifetime ban from Disneyland.
Lessin is a past fellow of the Open Society Institute and the Sundance Institute and has served as an advisor to IFP, Sundance and Creative Capital artists. Her filmmaking has been supported by The Bertha Foundation, Chicken & Egg, Cinereach, Creative Capital, The Ford Foundation's JustFilms, Fork Films, the International Documentary Association's Pare Lorentz Fund, the MacArthur Foundation, New York State Council on the Arts, Rockefeller Brothers Fund and the Sundance Institute Documentary Film Program. She is a member of the Academy of Motion Picture Arts & Sciences and the Directors Guild of America.
Born and raised in Washington, D.C, Lessin's mother and grandmother were Jewish refugees who fled Nazi-occupied Europe and found sanctuary in Trinidad and later in the U.S. Her grandfather was imprisoned at Auschwitz. Their experiences have informed the questions about survival and resistance that have guided Lessin's filmmaking.
Lessin is a 1998 graduate of Cornell University and lives in Brooklyn, New York with her partner and frequent collaborator, Carl Deal, and their son.
Academy Award®-nominated Trouble the Water is set against Hurricane Katrina and the abandonment of 100,000 New Orleans residents to deadly floodwaters. The day before the storm makes landfall, 24-year old rap artist Kimberly Roberts turns her video camera on herself, her husband Scott and their neighbors trapped in New Orleans. "Its gonna be a day to remember," she says as the winds pick up; without means to evacuate, she records their harrowing ordeal as the nearby levee breaks and water engulfs their home and community. Directors/producers Tia Lessin and Carl Deal open Trouble the Water with this chilling footage, then follow Kimberly, Scott and their friend Brian on a two-year odyssey to rebuild their lives and their community. The film documents atrocities ignored by the mainstream media and covered up by authorities: the 8,000 inmates left behind in locked jail cells; soldiers turning guns on displaced residents; the deaths by euthanasia of 43 elderly patients; and the homecoming of Louisiana national guardsmen who were serving in Iraq when Katrina hit.
The film won the Sundance Film Festival's Grand Jury Prize, the Gotham Independent Film Award, and was named one of the top ten documentaries of the year by The New Yorker, Salon.com, Entertainment Weekly, Los Angeles Times and New York Magazine.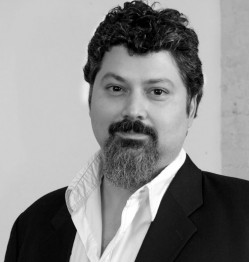 Carl Deal
Brooklyn, NY
Carl Deal directed and produced the Academy Award-nominated Trouble the Water with collaborator Tia Lessin. He co-produced Capitalism: A Love Story in 2009, was a producer of Michael Moore's Fahrenheit 9/11, and has contributed to many other documentary films. Previously, he worked as a freelance journalist and news producer for Worldwide Television News and the European Broadcasting Union and has reported from disasters and conflict zones throughout North America, Latin America and Iraq. Deal has also documented civil and human rights abuses for several NGOs, among them Amnesty International, Greenpeace and Public Citizen. He holds an MS in journalism from Columbia University, which awarded him the Sander Social Justice Award.