Heidi Kumao
Ann Arbor, MI
Heidi Kumao is an interdisciplinary artist who creates videos, machine art, and installations to explore ordinary social interactions and their psychological undercurrents. These works span a wide range in media from wearable electronics and animation to video sculpture and robotic girl's legs. She has exhibited her work in solo and group exhibitions in the USA, Brazil, Argentina, Australia, Spain and Canada including shows at Museu da Imagem e do Som (São Paulo), Museu de Arte Moderne (Buenos Aires) and Fundació Joan Miró in Barcelona. Recent group exhibitions include "Human+" at the Centre de Cultura Contemporània de Barcelona, Wing Luke Asian Art Museum (Seattle), and Usina do Gasômetro Cultural Center (Porto Alegre, Brazil). Her film, "Swallowed Whole," was screened in over 25 film international film festivals and was awarded "Best Experimental Film" at the Female Eye and Humboldt International Film Festivals in 2015. She has received fellowships from the Creative Capital Foundation, the Guggenheim Foundation, and the New York Foundation for the Arts. She is a professor at the Stamps School of Art & Design at the University of Michigan.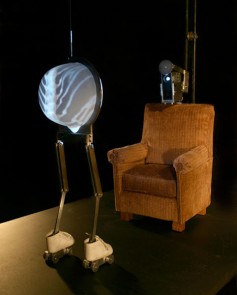 Misbehaving: Media Machines Act Out
---
Misbehaving: Media Machines Act Out is a series of three female, kinetic "performers." In each of the tableaux, a mechanized pair of aluminum girl's legs fitted with shoes "speaks" through erratic physical gestures or video imagery, representing women and girls who disobey or resist expectations. Custom mechanics, electronic circuits, proximity sensors, and a microphone make them responsive to the presence of viewers. In Resist, a pair of girl's legs squirms on the floor in response to viewers' speech and in a way that is both sexualized and challenging. The legs in Protest stomp loudly and unpredictably while standing on a coffee table. Translator explores the language of non-verbal gestures between a child and two adults. Viewers move the girl between opposing half-scale armchairs each with video projector heads. Unlike a typical interpreter, this translator exposes the power relationship behind each interaction by physically embodying the conversation.