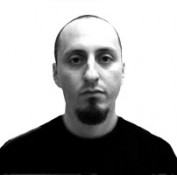 John Leanos
San Francisco, CA
John Jota Leaños is an animator and new media artist focusing on critical convergences of history, memory and decolonization. Leaños' animation, installation and performance fuse traditional art practices and aesthetics with new technologies and contemporary interpretations. Leaños has received the 2012 Guggenheim Fellowship in Creative Arts, the United States Artist Fellowship (2011), San Francisco Art Commission Individual Artist Grant (2011) and the National Association for Latino Arts and Culture Artist Award (2012). His animations have screened internationally at dozens of festivals and museums including the Sundance Film Festival (2010, 2006), Cannes Film Festival, France (2007), Morelia International Film Festival, México (2008), WILDsound Film Festival, Toronto (2008), BAM/PFA (2011), Artivist Film Festival (2006), the KOS Convention (2007), the de Young Museum, San Francisco (2010) and the Museum of Contemporary Art, San Diego (2008, 2006). He has also shown at the 2002 Whitney Biennial, Museum of Contemporary Art in Los Angeles, San Francisco Museum of Modern Art and the Galería de la Raza. He is currently an Associate Professor of Social Documentation at the University of California, Santa Cruz, in the Department of Film and Digital Media.
Imperial Silence: Una Ópera Muerta / A Dead Opera in Four Acts
---
Imperial Silence is a multimedia performance that journeys to the 'other' side to illuminate cultural taboos around silence, death and dissent in the satirical Mexican and Chicana/o tradition of the Days of the Dead. This hybrid performance fuses dark humored animation with Mexican folklore dance, Mariachi music, hip-hop, bossa nova and blues conceived and created by director/librettist, John Jota Leaños, composer Cristóbal Martinez, the Mariachi ensemble, Los Cuatro Vientos and loco actor Sean Levon Nash. The live/dead performance includes a live DJ, stage actors, folklore dancers and Mariachi singers who interact with projected animations. The animations in the opera have screened and have won several awards at national and international film festivals including Sundance Film Festival, Cannes Film Festival, Morelia International Film Festival and others.
The opera's four acts include Act I—Los ABCs ¡Qué Vivan los Muertos!, an animated primer on war and empire; Act II—Deadtime Stories with Mariachi Goose and Friends, an animation that re-examines Mother Goose children's rhymes and culminates with the great fall of Humpty Mariachi Dumpty; Act III—¡Radio Muerto!, a live performance and animation of a skeleton traveling the road to Mictlan (the Aztec underworld) while listening to the radio; Act IV—DNN: Dead News Network, a dead animated newscast exploring the silencing of dissent and "spin" in the corporate news media. The opera's Intermezzi involve a live electronic mix and acoustic Mariachi accompaniment of the baroque songs "El Corrido de Pat Tillman," "Lamento Desaparecido," "This is the House that Blacks Built" and others.