Gynadome: A Separate Paradise
---
Dyke Action Machine!
More
Carrie Moyer is a New York-based painter and one half of the public art project, Dyke Action Machine!
Artist Bio
---
Gynadome, Dyke Action Machine's online manifesto, is a post-apocalyptic paradise where Women go back to the Land and learn to love their Mother (Earth, that is). The project consists of two parts, a website and a 28′ x 22′ stretch vinyl mural on the side of a building in lower Manhattan. The project revisits a particular moment in the history of lesbian culture—women's back-to-the-land movement of the 1970s—by situating it within the narrative structure of classic science fiction films like Planet of the Apes and Mad Max. Spun from earlier campaigns, 1999's DAM! FAQ! (Frequently Asked Questions of Lesbians) and 1995's Straight to Hell, (the poster for the lesbian revenge movie that didn't exist), the vinyl mural publicized the online portion of Gynadome. Inside the online Gynadome forum, players could ask, "What if women ruled the planet?" and be interactively "punished" for mentioning anything automated. Viewers could also watch diaristic videos of back-to-the-land life on Gynadome.
Dyke Action Machine!
New York, NY
Dyke Action Machine! (DAM!) is a two-person public art project founded in 1991 by artist Carrie Moyer and photographer Sue Schaffner. Between 1991 and 2004 DAM! blitzed the streets of New York City with public art projects that combined Madison Avenue savvy with Situationist tactics.,The campaigns dissected mainstream media by inserting lesbian images into recognizably commercial contexts, revealing how lesbians are and are not depicted in American popular culture. While questioning the basic assumption that one cannot be "present" in a capitalist society unless one exists as a consumer group, DAM! performed the role of the advertiser, promising the lesbian viewer all the things she'd been denied by the mainstream: power, inclusion, and the public recognition of identity.
DAM! began as a working group of Queer Nation and quickly evolved into a stand-alone agitprop unit whose exact membership remained anonymous for many years. Dyke Action Machine! campaigns presented a hybrid form of public address where civic issues such were packaged to fit seamlessly into the commercialized streetscape., A typical DAM! campaign was comprised of 5,000 posters wheatpasted over the course of one month. Neighborhoods were targeted for both the volume and diversity of pedestrian traffic as well as their long histories as sites for graphic intervention and public discourse. As corporations and activists battled for the ever-dwindling public space in New York City, DAM! turned to other modes of propaganda (lightboxes, catalogs, matchbooks, buttons and stickers to name but a few) and distribution (the US Postal Service, the Internet and by hand).,
Carrie Moyer
Brooklyn, NY
Carrie Moyer is a New York-based painter and one half of the public art project, Dyke Action Machine! (DAM!). Her paintings and public art collaborations have been widely exhibited and reviewed in both the U.S. and Europe. In 2004, the Palm Beach Institute for Contemporary Art presented her paintings in Two Women: Carrie Moyer and Sheila Pepe. Moyer has been the recipient of numerous fellowships and grants, including the Elaine de Kooning Memorial Fellowship in Painting and a Wattis Artist Residency at the Yerba Buena Center for the Arts, San Francisco. Moyer teaches at the Mason Gross School of the Arts at Rutgers University and Queens College.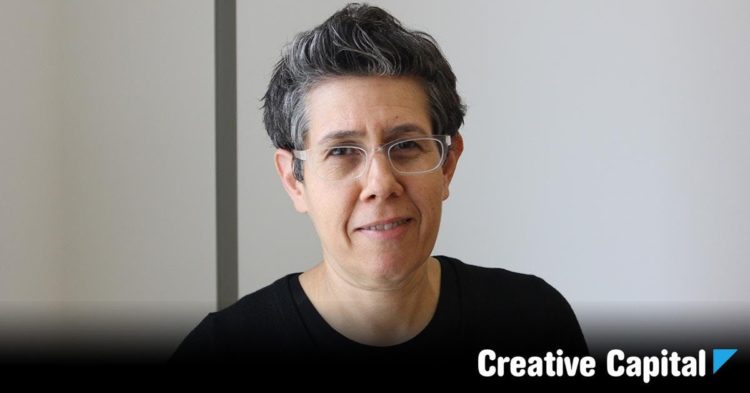 Sue Schaffner
Brooklyn, NY
Sue Schaffner was born in New York city and moved to suburbia one year later. Twenty years afterward, she escaped back to the city and has never left. Sue's commericial photography (under the alias GIRL RAY) has been published widely in magazines and advertising and is licensed internationally by Getty Images and Corbis. In 1991, Schaffner and artist Carrie Moyer founded the public art-duo, DYKE ACTION MACHINE! (DAM!). Notable DAM! exhibitions include Mixing Messages at the Cooper Hewitt National Design Museum and Straight to Hell: 10 Years of Dyke Action Machine!, a retrospective originating at Yerba Buena Center for the Arts. Schaffner is an artist leader in Creative Capital's Professional Development Program.