In the Press: November 2021
Stay up-to-date with Creative Capital and our awardees! Each month, we compile press highlights about what is happening in our community. Recently, Sanford Biggers and Miranda July participated in Gucci's 100th anniversary celebration, Simone Leigh launched a new website in anticipation of her solo show at the Venice Biennale, and Anna Sew Hoy received an Anonymous Was A Woman Grant. Check out more headlines, interviews, and note-worthy articles below.

How to Craft a Successful Artist Statement
Dance Magazine
November 23, 2021

Aliza Shvarts, director of artist initiatives at Creative Capital, provides tips for crafting a successful artist statement.
---

Variety Announces 10 Directors to Watch for 2022
Variety
November 22, 2021

Variety announces 10 filmmakers with sterling futures ahead: the class of 2022, to be profiled in full with the first print edition of the new year. Creative Capital Awardee Nikyatu Jusu is included in this list!
---

Sanford Biggers and Tanya Aguiñiga win $250,000 Heinz award
The Art Newspaper
November 18, 2021

The artists Sanford Biggers and Tanya Aguiñiga are the recipients of the annual $250,000 Heinz Awards, an unrestricted prize set up in 1993 by the family of the late Republican politician Henry John Heinz to recognise significant contributions to the arts, environmental and economic sectors.
---

'Artists & Elders' Project Inspires Art and Friendship Across Generations
KQED
November 17, 2021

Amid the isolation of shelter-in-place restrictions last year, three artists —Erika Chong Shuch, Rowena Richie and Ryan Tacata —responded by creating "Artists & Elders," a project connecting artists with senior citizens to create and exchange art. They speak to KQED about the project. "Artist and Elders" is an iteration of Chong Shuch's Creative Capital Project, For You.
---

Materializing the Immaterial: Aliza Shvarts Interviewed by Charlotte Kent
BOMB
November 15, 2021

Too often people have heard of Aliza Shvarts's work but have never seen it, which is ironic given how often her practice addresses issues of representation and structures of meaning-making. The complex politics of her conceptual work frequently overshadow her thoughtful approach to materials, as if ideologies aren't embedded in the physical structures that shape our world.
---

Anonymous Was a Woman Grant
November 9, 2021

Anna Sew Hoy is among the recipients of the 2021 Anonymous Was A Woman Award, an unrestricted grant of $25,000 that enables women artists, over 40 years of age and at a significant juncture in their lives or careers, to continue to grow and pursue their work. The Award is given in recognition of an artist's accomplishments, artistic growth, originality and potential. It is not need-based. The Award is by nomination only.
---

Filmmaker Billy Luther on Why Authentic Casting Is Crucial for Native American Movies
Variety
by Jazz Tangcay
November 8, 2021

This past summer, filmmaker Billy Luther (Navajo, Hopi, and Laguna Pueblo Tribes) headed to New Mexico to film his narrative feature debut, "Frybread Face and Me."
---

New Website Launched in Anticipation of Artist Simone Leigh's Representation of United States at 56th Venice Biennale in 2022
Culture Type
by Victoria L. Valentine
November 6, 2021

A NEW WEBSITE provides a preview of Simone Leigh's forthcoming exhibition at the 56th Venice Biennale in 2022. Leigh is the first Black female artist to represent the United States with a solo show in the U.S. Pavilion at the international exhibition. The presentation will be on view April 23-Nov. 27, 2022.
---
'Kristina Wong, Sweatshop Overlord' Review: Our Sewing Superhero
By Laura Collins-Hughes
The New York Times
November 4, 2021
Before the lights go down at New York Theater Workshop, Kristina Wong gets up from her Hello Kitty sewing machine, where she's been making a face mask, to deliver some trigger warnings about the solo performance she's about to give.
---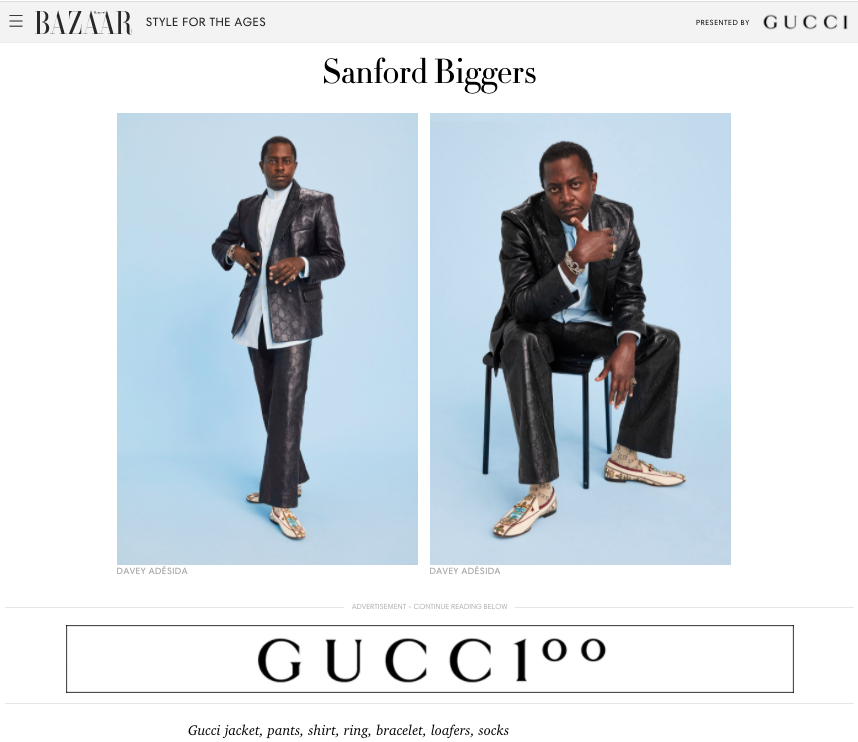 Style for the Ages
Harper's Bazaar
by Leah Faye Cooper
November 3, 2021

Long before artist Sanford Biggers had solo exhibitions from Milan to Miami, he was growing up in Los Angeles and absorbing his mother's affinity for style.
---
Inside the Gucci Love Parade Show
Variety
by Marc Malkin, Alyssa Mora
November 3, 2021
Miranda July walks the runway at the Gucci Love Parade fashion show on Hollywood Boulevard.
---

Dossier: Black Clay
Frieze
November/December 2021

'Working with clay isn't a one-way conversation: there is this constant potential for movement.' Drawn from the earth and moulded by the hands, clay has traditionally been marginalized as a craft form. Artists Helen Cammock, Phoebe Collings-James, Theaster Gates, Magdalene Odundo and Julia Phillips reflect on what we might learn from centering ceramics, as well as its politics. They share what brought them to clay and how this medium, malleable and brittle, has shaped them.
---

Marcus Pactor's Begat Who Begat Who Begat & Marc Anthony Richardson's Messiahs
Brooklyn Rail
By John Domini
November 2021

These two new fictions reveal profound differences, and each in its way deserves applause. Marcus Pactor's short stories prove kooky yet touching, while Marc Anthony Richardson's novel has a nightmare impact, a gathering heartbreak.
---