15 Fun Facts About Creative Capital

For the past 15 years, Creative Capital has been funding adventurous, culturally relevant projects that don't always fit in a gallery setting. Often, you might not even know you are looking at a Creative Capital art project, and it's not always obvious how our grants or system of support helps our artists. As we continue to celebrate our 15th Anniversary and ring in 2015, we thought we would tell you 15 Creative Capital Fun Facts.
1. Not all Creative Capital Artists have been making art their whole lives.


You probably know art is a difficult profession to get into. Sometimes all it takes is vision and determination; and other times you might have to get fired from your job at Red Lobster.
That's what convinced Brent Green to apply for a Creative Capital grant. "I had gotten fired from my job as a waiter at Red Lobster," Brent told Art in America in 2011. "I was 25, I hadn't gone to college… [but] I'd made three short films [like the one above], animations, and I got the grant."


Growing up, filmmaker and journalist Laura Poitras planned to be a pastry chef. She worked as a cook at the famous restaurant L'Espalier in Boston for several years before she decided to jump into filmmaking.
"I left cooking because there were serious limits to what you could do, artistically, to communicate," Poitras told the Boston Globe. "When you're a chef, your job is to please people… You're there to offer a good experience, not a complicated experience."


2. We've helped dress artists for the red carpet at the Oscars.


When Sam Green's Creative Capital project, The Weather Underground, was nominated for an Academy Award in 2004, he didn't have a tux to wear to the big event. Our director Ruby Lerner put him in touch with someone who knew the Marc Jacobs designers. Too busy designing wear for stars like Brad Pitt and the like, they weren't convinced to supply him with a free outfit until she added that he looked like a "Jewish JFK."
This year, we have three sets of artists shortlisted for the Oscars documentary section! Laura Poitras, Sam Cullman, and Tia Lessin and Carl Deal, so maybe we'll get to put our designer match-making skills to use again! Woohoo!

3. We support the development of alternative lifestyles!


Art can challenge the way we live just as much as technology or politics can. For his project, Seamor, Jim Skuldt is converting an empty shipping container into his own private, traveling capsule. Inspired by furniture and living quarters seen in deployable tactical shelters and luxury cruise ship environments, Jim is rethinking how we can live, travel and see the world. Once completed, the container will be able to travel aboard cargo ships, trains, trucks or any other form of intermodal transportation. It could change the whole way we go on vacation!

4. Creative Capital Artist Retreats have helped countless artists connect with curators, collectors and gallerists.

After artists are selected to receive grants, they present their projects at our Artist Retreat. To say that it is a networking and brainstorming session is an understatement. All of the artists come away invigorated and often make life-long connections, with gallerists, programmers, curators and other artists.
One of the many examples is Eric Dyer who met Ronald Feldman at the retreat. You can listen to the story of how Ronald asked to represent Eric at his gallery in the podcast above. We dare you not to cry!
5. Many of our workshop and webinar leaders are artists, too.
Dread Scott on the Artist to Artist model
from
Creative Capital
on
Vimeo
.
As they say, it takes one to know one. In addition to offering their skills and experience to PDP's programming, most of our workshop and webinar leaders are also practicing artists (and some are Creative Capital Awardees!). In the 2014 fiscal year, PDP employed
41 artist leaders
. Our Artist-to-Artist teaching model promotes learning that is actionable and personal, and our leaders are able to share how they apply curriculum concepts to their own practices.
In the video above, hear artist
Dread Scott
(Creative Capital Awardee, leader of multiple PDP workshops and webinars, and recently cited in the press for his performance piece, "
On the Impossibility of Freedom in a County Founded on Slavery and Genocide
") speak about the Artist-to-Artist model's intentions and impact.
6. Some Creative Capital projects evolve into growing organizations.
An art project doesn't always have to function as art, nor are they always destined for galleries or museums. Matthew Moore's Creative Capital project started as a video installation and over time has morphed into the 
Digital Farm Collective
, which has included school curricula, online platforms and other initiatives aimed at reconnecting people with the food they eat.
7. PDP travels far and wide (over 230,000 miles!) to bring professional development workshops to artists.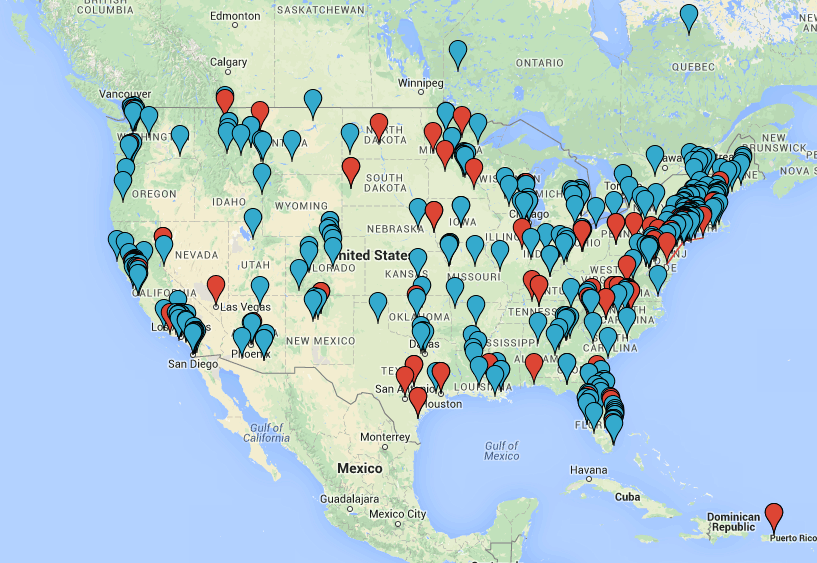 Frequent flyer miles aren't the only thing PDP is racking up. In 2014 alone, our leaders conducted workshops for artists in 23 communities, including: 
Miami
, FL; 
Des Moines
, IA; 
Ann Arbor
, MI; 
San Francisco
, CA and
Queens
, NY, and right in our own office! And that's just a sampling. To date, workshop leaders have facilitated 300 in-person workshops, traveled roughly 233,000 miles (from Bemidji, MN to Reno, NV to London, England) and served a total of 6,369 artists.
8. Creative Capital has encouraged artists to use crowdsourcing platforms like Kickstarter
When PBS pulled their funding for Tia Lessin and Carl Deal's controversial film
Citizen Koch
, Creative Capital gave them an emergency loan and advised them to start a Kickstarter campaign to raise the money they needed to finish the film. Their goal was $75,000; they ended up raising $170,000 from more than 3,000 individual backers!
9. We like video games!
Video games are still new territory for the art world, but the development studio
Tale of Tales
has been experimenting artistically with the medium for quite a while. In 2006, Creative Capital funded their project 
The Path
, a horror game inspired by Little Red Riding Hood. The video game blog
Kill Screen
described Tale of Tales as having a "reputation for poetic, disturbing, experiences that may or may not fall under your current definition of games."
10. Got an artistic to-do list? We'll help you cross off items!
We hear all the time from past participants in our Strategic Planning workshops that the experience motivated them to dream big, write down their goals and start crossing things off their list. Nashville artist Bryce McCloud took our Core Skills workshop with the Arts and Business Council of Greater Nashville in 2011. He made a list during the workshop of what he then thought were ridiculously ambitious goals, including expanding his letterpress printing practice into public art. Two years later, he received a $100,000 grant from the Metro Nashville Arts Commission to support his new project,
Our Town Nashville
, a mobile cart that brings the idea of Self Portraiture to the people, encouraging Nashville residents to make and trade abstracted letterpress self-portraits. Bryce is now compiling the portraits for a year of making large-scale public installations for the city and an exhibition, which just opened at the
Nashville Public Library
.
11. We help hip hop connect with communities.
For their Creative Capital project
Beware of the Dandelions
, the hip hop group
Complex Movements
begins by spending time and establishing connections with people in an underprivileged community. Most recently, they went to Dallas and heard from mothers speaking out against police brutality there. They use the platform of performance to build connections between these communities.
One of the members explained to
Colorlines
recently, "'Beware of the Dandelions' [as] an organizing platform both supports what happens locally but also, because it tours, it supports people making connections with each other across geography."
Another Creative Capital Artist, Tahir Hemphill, is using his 
Hip Hop Word Count
 to teach art, design, data analysis and datavis to students from the Bronx. One of his students' project was even written about in
Gawker
!
12. Nearly half of the artists we support give back to Creative Capital.
Because Creative Capital was modeled after venture capitalist approaches to supporting entrepreneurs, we welcome artists to return some of the money they make when their art project is successful. It's not a necessary step in the process, but the money always goes to the next wave of Creative Capital funded artists.
2014 was a great year for
 Cauleen Smith
: she won two grants and had a successful solo exhibition at Devon Borden Gallery. So, she was able to give some money back to Creative Capital.
Artists love supporting other artists!
13. Nature hikes, bike rides, road trips… we support art off the beaten path.
Just in 2014 alone, we have seen two projects come to fruition that have taken the idea of art on the road seriously. For 
Wild Times
, Susan Robb hiked the Pacific Crest Trail, stretching from Mexico to Canada, and sent artworks to 3D printers in museums and galleries to document her experience. Taylor Ho Bynum went on a
bike tour
 of the west coast, playing his trumpet at various concert venues along the way. And we helped support Juan William Chavez on a few road trips to Louisville, Kentucky, where he eventually had an exhibition at 21c Hotel Museum and presented at the Louisville IdeaFestival!
14. Lots of our artists have secret lives.
Many Creative Capital Artists support their practices with other occupations.
Queen Godis
, a poet and performance artist, doubles as an art therapist. She has coached and offered mentorship to thousands of youth across the globe partnering with organizations like Urban Word NYC, Youth Speaks, and Girls Educational & Mentoring Services.
15. Creative Capital supports emerging artists, as well as established artists!
You might think that Creative Capital only supports artists who have an established career, and are gallery represented, but in fact we have supported artists in all stages of their careers.
LaToya Ruby Frazier
(pictured above with her mother from an
Art21 film
) was a young, emerging artist when she won the Creative Capital award in 2012. We've loved watching her career take off over the past few years.
So now you know: it's never too early to apply!
---