Infinite City: A San Francisco Atlas by Rebecca Solnit.
A Brief Portrait of Small Deaths, the author's third novel, is a story set in Berlin during the interwar years. The book will focus on the life of a German painter and his model, an Afro-German woman, as Nazism rises in the country.
Maaza Mengiste is a novelist and an essayist. Her fiction and nonfiction examine the individual lives at stake during migration, war, and exile, and consider the intersections of art and violence.
A novel that tells the story of a young man's isolated upbringing and the race trial that sends him to the Supreme Court, The Sellout challenges the sacred tenets of the United States Constitution, urban life, the civil rights movement, the father-son relationship, and the holy grail of racial equality—the black Chinese restaurant. The work tells the story of "Hominy" Jenkins, a resident of Los Angeles's Dickens neighborhood and the last living member of the original Our Gang television show cast. As this poverty-stricken hometown's most famous resident, Hominy is tasked go out into the world and find Dickens, its sister city.
Beatty won the Man Booker Prize for The Sellout in 2016—he was the first American to do so.
Poet and novelist Paul Beatty is the author of two volumes of poetry
The Argonauts is a book that combines autobiography and theoretical inquiry to address issues of gender, queerness, family-making, identity and the limitations and possibilities of language. At its heart lie D. W. Winnicott's ideas of "good enough" mothering and ordinary devotion, Wittgenstein's idea of ordinary language as being "all right," the critique of paranoid logic and celebration of the reparative as offered by Eve Kosofsky Sedgwick and related ruminations on happiness and freedom. In form, The Argonauts is essentially a long essay, which contains within it the story of the author's pregnancy, running alongside that of her partner's gender transition.
The book won the National Book Critics Circle Award for Criticism in 2016.
Maggie Nelson has been described as "genre-busting" by Michael Miller of Time Out New York.
Amerikan Woman is a book-length work of experimental nonfiction that merges the artist's biographical research about radical feminist writer and antipornography activist Andrea Dworkin with her own memoir, drawing upon diverse literary genres, including historical and dystopian fiction. Dworkin's life and apocalyptic vision becomes a lens through which to see the artist's personal history, contemporary feminism, and the dawn of Trumpism.
Writer and musician Johanna Fateman is a founding member of the rock band Le Tigre and co-owner of Seagull Salon in New York City.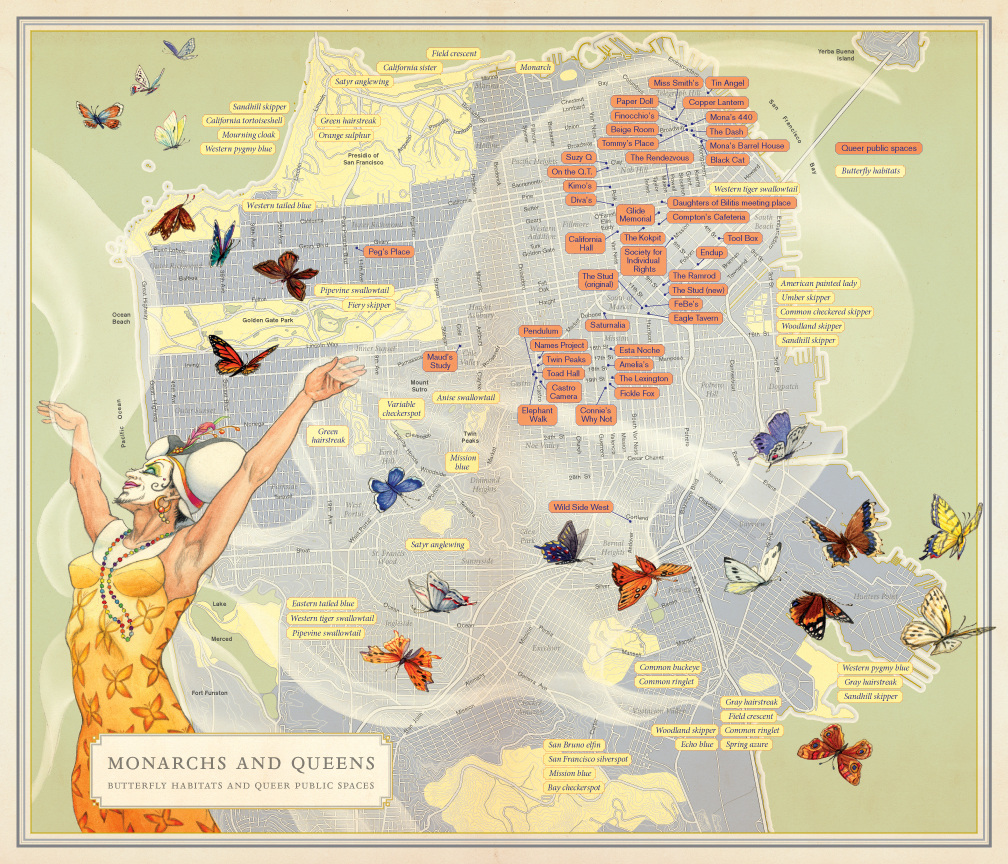 Infinite City is a mapping project that takes place in three media: a book published by the University of California Press in 2010, a series of six broadside maps issued by the San Francisco Museum of Modern Art, and a series of six public events at locations around the city in conjunction with those broadsides. The maps document everything from murders to treasures to queer history, labor history, urban renewal, and butterfly species in San Francisco; toxins and food history, African American and shipyard history, environmental preservation, right-wing and military sites in the Bay Area; and neighborhood and local histories within San Francisco, including the coexistence of day laborer migrants and super-localized gang kids in the Mission, Fillmore Street's dense histories, and more. The maps are lush visual works, several of the 21 in collaboration with artists, and the book includes essays by Rebecca Solnit and various writers on subjects related to the maps.
Rebecca Solnit is an activist, historian and writer who lives in San Francisco.
Creative Capital's support has helped me feel stable as I develop the skills necessary to become a published author. Just knowing Creative Capital is there in the background is a boon in these tumultuous times.
–Arturo Vidich
For the first time in my life I've begun to think about my passion for writing as not the thing to tuck into wee hours of the morning or late at night but rather center-stage in a bigger creative workflow.
I meet so many writers who are independently wealthy—this hefty grant, in so many ways, levels the playing field…and then some. When we say Creative Capital is "life-changing," it's no hyperbole."
I love Creative Capital! I feel very supported–financially and psychologically.
I feel taken care of. Someone is always there to talk through issues. This project is the only thing I'm looking forward to [during COVID crisis] and I'm so thankful that someone outside of me is invested in it.
Creative Capital changed my life for the better in pretty much every way imaginable, and really became my family.
Creative Capital's support has helped me feel stable as I develop the skills necessary to become a published author. Just knowing Creative Capital is there in the background is a boon in these tumultuous times.