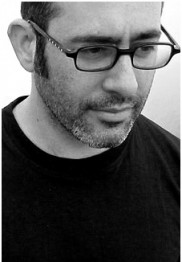 Golan Levin
Pittsburgh, PA
Golan Levin's work focuses on the language of interactivity: verbal, vocal, and visual. He has exhibited at The New Museum of Contemporary Art, The Kitchen, The Whitney Biennial, all in New York; Ars Electronica in Linz, Austria; The Museum of Contemporary Art in Taipei, Taiwan; The InterCommunication Center in Tokyo, Japan; and the Neuberger Museum in Purchase, New York, among other venues. His funding credits include The New York State Council on the Arts, The Rockefeller MAP Fund, The Greenwall Foundation, and the Arts Council of England. Levin is an assistant professor of electronic art at Carnegie Mellon University in Pittsburgh.
Observation as Interaction: Eye Contact Systems
---
Observation as Interaction: Eye Contact Systems is a series of large-scale artworks that return a viewer's gaze. Comprising everything from wall projections to robotic sculptures, these works rely on Levin's original software to track where viewers are looking and simulate a return glance. Following several recent projects that simulated virtual gesture and vocalization, Levin's new project focuses on visual, non-verbal interaction.